Ellen … Spanish escort
Her Spanish spirits, a beautiful body and her dark red hair make Ellen the perfect escort girl. She grew up in Spain and loves life with all its facets. She is 24 years young, well educated, self-confident and loves playing different roles. Would you like the passionate Spanish seductress, the shy little princess or the wild cat that makes every erotic dream from 1001 nights come true? As a modern but very feminine and sophisticated lady she knows different languages (Spanish, English, Russian) and loves good manners. Ellen from Spain is the perfect escort for passionate fireworks in all kind of ways. Even the first minutes of an encounter start with crackling erotic. Her escort services can be booked in Spain and worldwide. With her sweet Spanish accent Ellen is available for any kind of escort – from two hours up to several days.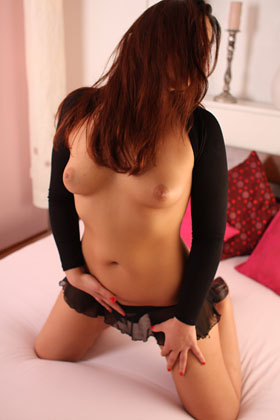 Her smile is mysterious, so with Ellen from Spain men never know if it all ends with an unrestrained intemperance. With her Spanish fire she is the perfect dream woman of our time – an exciting escort as well as a sensual lover who loves and knows erotic games. The Spanish fire blazes in her eyes and just waits for enlightenment.